LILY & KATY GO RED
May 2, 2017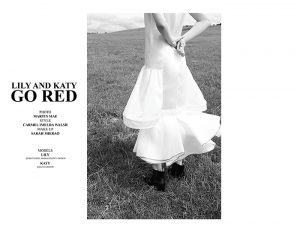 We all know that vitamins are indispensable and must be taken daily to ensure that our body performs all its functions properly. We can even intervene locally with the right vitamin skin care products, suitable to the needs of the moment.
Vitamin A (retinol) with its antioxidant function fights free radicals and prevents acne, stimulates natural cell renewal and tone ups the skin. The Eisenberg Paris serum-cream has immediate smoothing and anti-age action. It contains super moisturizing actives, an anti-wrinkle peptide and vitamin A.
The B vitamins play an active role in moisturizing, soothing and regenerating. Of this group, the most widely used is the B5 (pantothenic acid): it hydrates because it retains water molecules while maintaining softness and elasticity, soothes for its calming effect on irritated skin and regenerates promoting tissue repair. Skin Ceuticals Hydrating B5 is a moisturizing fluid, formulated with high concentrations of hyaluronic acid and vitamin B5 which balances the level of hydration giving brightness and uniformity: ideal for all skin types.
Vitamin C is the queen of vitamins in this period: as well as being very useful for the immune system is also a powerful antioxidant and anti-wrinkle. These functions are linked together because of the antioxidant action fights aging and helps the production of collagen, essential for skin elasticity and sagging skin. Natura Bissé C+C Vitamin is an excellent cream for all skin types, especially for the very dehydrated ones. It has to be applied day and night with gentle circular massage both on the face and neck.
Vitamin D determines the quality of the hydrolipidic film and promotes the growth of superficial cells, giving the skin a youthful and healthy appearance. Power Dose D Dr. Brandt Skin Care, reproduces the sun exposure that generates the natural synthesis of vitamin D in our bodies, eliminating the risk of UV rays. It is used applying it, day and night, directly on face and neck or by mixing 4 or 5 drops within the usual moisturizer.
In the antioxidants category vitamin E  really stands out: almost as a sister of vitamin C, it improves the hydration of the skin and keeps it elastic, also counteracts the harmful effects of free radicals during exposure to ultraviolet rays, preventing wrinkles and sunspot. Biovea skin care cream with vitamin E, aloe vera and sesame oil. Those botanical soothing ingredients like chamomile, aloe and ginseng, help epidermal restoration, even they're great even for the younger ones.
Text by Cosetta Giorgetti
Photo Martin Mae
Style Carmel Imelda Walsh 
Make up Sarah Mierao 
Models Lily @First Model Management London & Katy @Elite London
Anekdot Boutique, Alexandra Long, Hunter, Emilia Wickstead, Coralie Marabelle, Sacai, Natalie B Coleman, La Fille d'O, Fintan Mulholland, 16 R, Drome