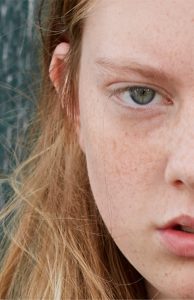 Who said that moisturizing creams are only stuff  for old ladies frightened by the advancing age? Hydrating the skin with a good product since adolescence is important in order to guarantee its right nourishment, to preserve its physiological balance, and to keep it elastic. Since youth, moisturizing cream has indeed a leading role in preventing skin ageing.
Each kind of skin needs a specially-made cleansing: a normal skin doesn't have particular needs, an oily and shiny skin needs sebo-regulating moisturizers, soothing and without oils. A combination skin, characterized by some oily face areas (usually forehead and nose) and some other dry areas, needs a balanced cream. Nourishment is the key word for dry and reactive skins instead. Marketplace offers multiple choices, here are our suggestions:
Bjobj Teen is perfect for those, whose skin has a shiny tendency. It helps with sebo-regulation and gives a mat effect to the skin thanks to its lemon extracts. Licorice and juniper help restoring the normal and delicate skin balance.
Bionike Defence XAGE Prime is dedicated to sensitive and intolerant skins thanks to its light texture. It contains the Rejuvenante Sgf, a special complex made of matrikine, biotechnological saccharides, and a purified extract of crocus. This last is able to stimulate the synthesis and the correct organization of the extracellular matrix key elements, one of the main skin growth factor.
Avène Rich Compensating Cream, nourishes and soothes very dry skin. Without parabens, its a nourishing fluid which hydrates thanks to the three patented lipids which imitate the intercellular cement structure. It strengthens the cellular cohesion, therefore creating an efficient barrier against dehydration.
Caudalie Vinosource moisturizing matifying fluid  is a "featherweight" fluid which instantly mats and, by reducing the effects of the excessive sebo, it starts skin hydration mechanisms again and it helps restoring its water reserves. Non comedogenic, non acneic, and a perfect companion for combination skins.
Text by: Cosetta Giorgetti 
Photo: Annelie Bruijn @Visionary Agency
Style: Lisa Dymph Megens @House of Orange
Hair & Make-up: Ingrid van Hemert @House of Orange
Photo assistant: Chad Cheverier
Models:  Ina @Paparazzi Models; Freek @Riches MGMT; Glyne & Annabel @Known Model Management; Levi @Elite; Noah Kelatow